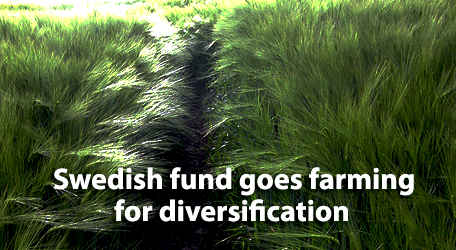 Retail investors can now invest in farmland just like AP2
Following-up on previous posts here and here, we have also come across yet more cases of pension funds investing in farmland.
The Second Swedish National Pension Fund (AP2) will invest $250 million in a joint venture with US pension fund TIAA-Cref.
AP2 has invested the money into a newly formed company that has joint venture partner, TIAA-CREF, as its majority shareholder and administrator.
TIAA-CREF already has extensive agriculture investments worth more than $2 billion, which include 400 farms globally.
From an article in the website Top 1000 Funds:
" TIAA's strategy for its' agricultural investments involves targeting growth crops that include corn, soybeans, sugar, apples, cranberries and wine grapes....The AP2/TIAA-CREF investment is to focus primarily on grain production.

Last year the fund made its first foray into forestry and farmland, buying assets in the United States and Australia.





In recent years, a number of pension funds have looked to real assets such as timber and farmland to provide an alternative investment that is not correlated to the markets.

These investments are also seen as a potentially attractive option in hedging inflation risk."



So, how can a retail investor invest in farmland??

The farmland investments that large pension funds make are obviously not available to individuals. As a result of a number of innovations, it is now possible for retail investors to access the farmland asset class by owning farmland directly.
GreenWorld is proud to offer the following agricultural land investment:
Please contact us at info@greenworldbvi.com if you might be interested to discuss further.